AE Series Units for Punching Channel
AE Series Overview
Channel Hole Punching Units with Standard 10 3/8″ Shut Height and 5 1/2″ Die Height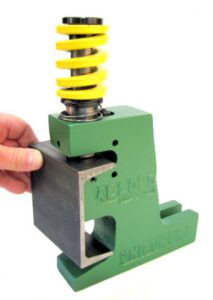 The "AE" unit is specifically designed for 3" (4.1#) and 4" (5.4#) structural channels, however, the large cutaway section permits the perforating of a large variety of I beams, angles, special shapes, and extrusions. The angle die, part number 2090 has die face angled to accommodate the flange of the channel. Flat dies are available for non-structural parts.
In addition to a wide range of standard round and shaped punches and dies, UniPunch provides punch and die pairs in shapes custom made to your specifications. UniPunch units are rugged holders that allow you to punch burr-free holes with minimal maintenance. Various mounting methods are available including dedicated templates for fast changeover at the press.
Custom "AE" style units are available for larger channels, irregular shapes or extrusions. Click here for more information. Request a quote today!