B Series Notching Units Overview
Corner Notch Units with Standard 5 1/2″ Shut Height and 2 19/32″ Die Height
UniPunch provides a variety of standard and custom notching units.
Corner Notching Units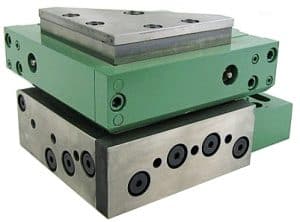 UniPunch Standard 90 degree 5" x 5" and 3" x 3" notching units are self-contained dies. The pilot pins extending below the base of the holder are concentric with permanently aligned punches and dies for quick accurate template positioning. These right hand and left hand style units are designed to operate as stand-alone tools or can be used in conjunction with UniPunch "B" series hole punching units to punch and notch parts within the same press setup. Corner notch units are in stock for immediate delivery. For corner notches larger than 5" x 5", UniPunch provides a 2 post design, 8" x 8" unit which is also compatible with our "B" series hole punching tools.
Die clearance is pre-set at the factory for notching 22 gauge (.76mm) to 10 gauge/.134" (3.4mm) mild steel. Replacement punch and die blades, springs and other components are available from stock. Optional accessories include: Gauging plate with built-in scales and adjustable stops and adjustable side gauges. Note: Punch & Die steel for the 8" x 8" corner notch unit are not interchangeable. Unit must be returned to the factory for replacement. Spare Punch & Die steels can be supplies with new unit.