UniPunch "D" Series tooling is specifically designed for punching holes in stainless steel from 1/8″ to 1/4″ thickness.  While many of our clients use our standard tooling to punch stainless parts, UniPunch recommends the use of our "D" Series holders, which come standard with punches made from D2 tool steel. The abrasive factor and high shear strength are the two main properties of stainless steel that cause punch tips to wear much faster than in mild steel. By utilizing the punches made from D2 the longevity of your punches is extended.
Even if the punches do not break as they wear, more stripping pressure is required to pull the punch from the material. The solution for higher production is the special designed punches offered by UniPunch for its D-Series holders, featuring:
Premium wear-resistant tool steel
Shear on punch tips (engineered to specific hole sizes)
Back tapered tip designed to reduce stripping pressure
UniPunch D Series: High Performance Punching Tools for Stainless Steel Applications
Hole Diameters up to 1.500" (38.10mm)
Stainless material capacity from 1/8" (3.17mm) to 1/4″ (6.35mm)
Operating Shut Height 8 3/8" (213mm)
Operating Die Height 3 1/2″ (89mm)
Standard manufacturing lead times apply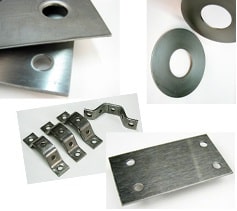 Architectural Components
Bridge Expansion Joints
Food Processing Equipment
Marine Products
Power Generation Equipment
Sign Manufacturing
Material Handling Components
Medical Equipment
Building Hardware Products
Truck & Trailer Equipment
Let's Discuss How UniPunch Can Help You
Tell us about your project, and we'll recommend the right UniPunch solution for your needs.