The
Fastest

 Way to Punch Tube and Pipe:

Use the fastest method for punching multiple holes in tube and pipe and immediately increase production. 
Fast Punch & Die Tooling
Rapidly punch multiple holes in just seconds. Save on time, labor costs and training with these easy-to-use tube punching systems and gain the competitive advantage you need to outpace other manufacturers.
Fastest Production Speed
Punch more holes in more tube parts per hour. If you're finishing 400 parts in a day now, imagine 2,400 instead.
Faster Into Production
We can provide most UniPunch tooling within days, so there's no need for you to wait months.
Faster Setup Time
Faster changeover from part to part.
Tell Us About Your Job.
Our experts have helped thousands of manufacturers increase their speed of production.
Call us at 1-(800)-828-7061 or fill out the form below, and our team will recommend the right UniPunch solution for your needs.
For dimple-free holes in tube or pipe, UniPunch provides custom mandrel style hole punching units.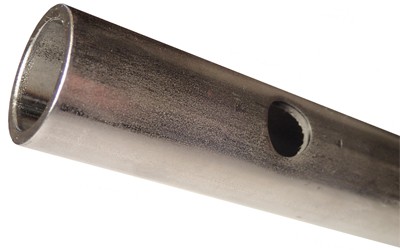 We have a wide variety of tube punching units to provide you with the solutions you need. Check out our capabilities and see why companies across the globe choose us as their tube punch and die manufacturer.
Punching Configurations
Tubing
Manufacturers Love Saving Time with UniPunch
Here is what just a few of them had to say:
"When I came in, they didn't know about UniPunch. It used to take them three weeks to complete 300 locks…now we're making 600 in one week just because I knew about the UniPunch system and was able to teach them how to use it and pick up our production."
– Lock Set and Door Hardware Manufacturer
"The operators like working with the tooling. Once it's set up and you have your template made, it's a breeze…just a snap."
– Dave,
Engineering Manager
The Metalworking Group
"Without costing an arm and a leg, there is just no other way to do it. The labor would be outrageous."
– Tim,
Tooling Designer
Cooper B-Line
Manufacturer Case Study
By choosing UniPunch, the punch and die manufacturer known for its unmatched speed, this company was able to produce an essential part five times faster! See how they did it.
Start Your Success Story Today!
See how your company can increase throughput speed with the top tube punch and die manufacturer in the business. Call us at 1-877-832-9034 or fill out a quote request and our team will recommend the right UniPunch solution for your needs.