Punch Tooling Systems
Our punch manufacturing solutions increase throughput, reduce bottlenecks and frequently save clients significant money upfront. Because our tooling systems are simple to use and easy to learn, it's also easy to train individuals on their use. For these reasons, customers around the world have made us their go-to punching tools manufacturer. The UniPunch team is available to customize tooling to fit your specifications. We'll happily and quickly assess your hole-punching needs. Then we'll recommend tooling solutions to fit your unique application.
Here are some examples of designs using standard and/or custom components including:
Systems to punch multiple holes in one hit
Mounting and gauging (part positioning) systems for multiple part applications
Die Sets for use alongside our standard tooling
Systems to fit with customers' press specifications
Progressive tooling solutions
Tooling solutions to fit your coil fed systems
Contact us to get started.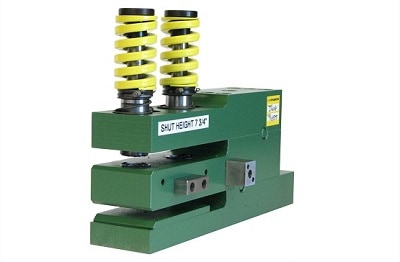 Tandem Unit to punch close hole-to-hole centers